What are boxes
Boxes are used to organize your website, they outline important information and therefore help website visitors easily find what they are looking for. Boxes are one of the basic layout components of the Summer Cart store.
| | |
| --- | --- |
| Important: | Boxes help you manage the layout of the website and frame up all sections that take left- or right-hand position on the website. Boxes are automatically generated by the Summer cart system whenever you create a new menu or install an add-on module. |
Summer cart comes with a set of boxes with crucial functionality, namely: 
| Box | Description |
| --- | --- |
| | Lists bestselling products |
| | Provides way for customers to login and logout |
| | Lists all top categories |
| | Lists manufacturers |
| | Displays cart amount and number of items in the cart |
| | Provides means for customers to search for products |
| | Lists recent news |
| | Allows changing of current customer currency |
| | Lists recently viewed products by the current customer |
| | Lists recently added products |
| | Custom menu created by store administrator |
Each box is quite specific, some have unique options. Make sure you check all built-in boxes to customize the Summer Cart store for your business.
10 boxes are visible in the Store Front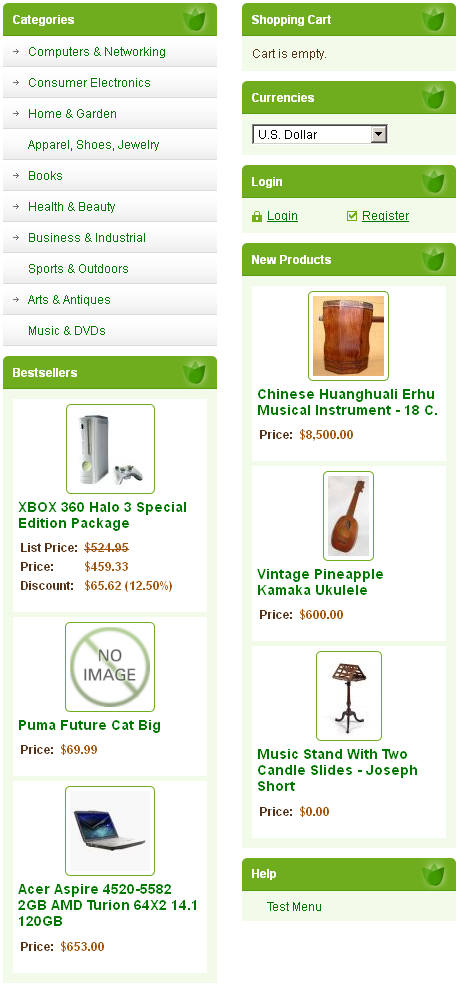 How to use 'Boxes' page
>> Open Summer Cart admin panel
>> Go to the Website Content menu, under 'Website Layout' click on Boxes link.
'Boxes' page lists shows all left- and right-positioned sections of your website.
Use 'Boxes' page to activate and pause any of the sections that appear in the left- or right-side on the website. You can also customize the options of some boxes - 'Bestsellers', 'Manufacturers' and 'Recently Viewed'.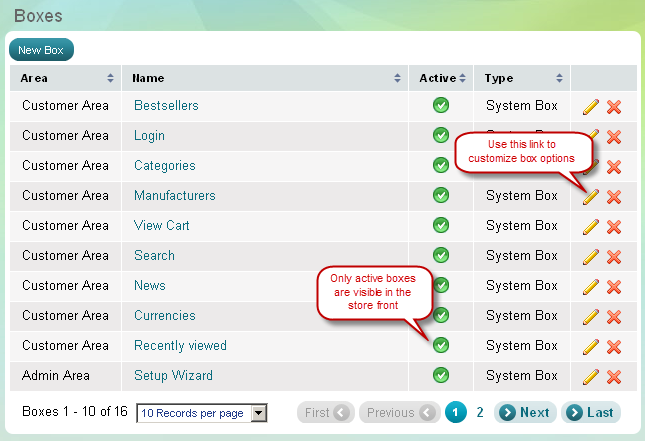 How to customize boxes
Boxes can be customized through the Options link that refers to each box in the 'Boxes' page.