Warning: always check with your country's laws regarding sending out newsletters before sending a newsletter, especially if you intend to add emails of people that have not given their permission for that

A newsletter is a form of periodical communication between a merchant and their customers, that is usually written in text form and sent via Email.

Typically, the newsletter contains information and pictures about products; catalogs; new items in stock; promotions or news in the niche that the merchant operates in.

The newsletter is usually sent at special conditions or terms of time and only to people who have subscribed to it. There are some law restrictions on randomly sending newsletters, different for each country. Check with your country's laws before sending out newsletters.

There are a few types of newsletters:
- periodic - daily, weekly, monthly;

 - newsletters for greeting a new customer;

- newsletters for new merchandise available or an article in the market niche


Creating a newsletter
1. Go to your store's administration
2. Go to "Website content" menu and below "Website content" click "Newsletter"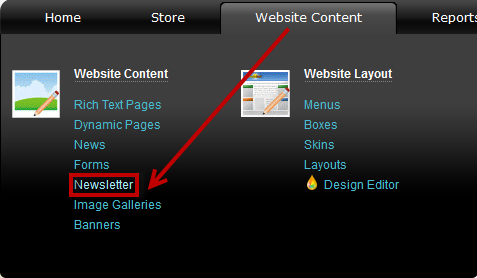 3. Click "Add newsletter"





4. The "Create newsletter" page is open



Name - enter the name of the newsletter
Subject - enter the subject of the newsletter. Example: "Spring Discount"
Text - using the WYSIWYG editor you can insert headers, images, banners, prices, HTML elements and many more in the body of the newsletter.
Active - activate the newsletter in order to be able to use it
Options - turn on the tracking options so you can get open rate and click-through rate reports for the newsletter campaign. Manage "Subscribe" and "Unsubscribe" options.

Click "Create" when you are ready


Here is an example newsletter