Note: if you would like to get reports for number of sales, click-through rates and conversion rates for your store, you need to get and install "Google Analytics Ecommerce tracking" Plugin. Contact our sales team for more information.


What is Google Analytics and what are the benefits of using it?
Google Analytics is a service, provided by Google. It generates detailed statistical reports about a website's traffic and the traffic's sources. GA tracks and measures different aspects of the web site's user activity such as conversions, sales, transactions, bounce rate etc. Basic version is free to use and there is a paid version which offers more features.
Who uses Google Analytics and why?

Google Analytics is widely used by marketers, entrepreneurs and retailers and its an extremely powerful tool that represents the results of different methods, strategies, promotions and advertising they employ. The feedback generated by GA is used to measure the impact from these actions. The reports can be shared with clients, suppliers, advertisers, shareholders and stakeholders.
Most of the information that Google Analytics supply can be viewed in real-time.
Google Analytics can supply you with the following information:
real time – visitors of the web site count and the pages they are located on;

real time- traffic sources;

demographic and technical information about the website's visitors – country, city, language, web browser, OS, device, service provider, screen resolution;

average page visit duration, referrals, active pages, locations, top keywords, bounce rate, new/old visitors, unique visits etc.;

traffic sources – direct, referral or search engines;
Google Analytics can generate many types of reports with lots of different options and settings for beginning/end date, pie charts, different parameters and aspects selection etc. All reports can be saved and printed.
How Google Analytics works:
Google generates a piece of code and you place it on every page on your web site that you want to track. You can do that manually by editing the HTML documents or automatically, by using the CMS of your web application. CMS can place it in the templates it uses and put it automatically in every dynamically generated web page on the web site.
Every time the place is visited, Google's code reports that and makes a record in Google Analytics. What is good about Google Analytics is that it makes a difference between a real (unique) visit and the same person just refreshing a page or visiting it via a different browser. This way you get realistic tracking stats. Google also provides all the data mentioned above. This makes Google Analytics one of the most reliable services in this field.


How to set up an Account with Google Analytics?
Visit http://www.google.com/analytics/ and whether you have a google account (gmail, webmaster tools or else) or not, you can either click "Sign-In" or create a Google Analytics account by clicking "Create Account" (both buttons are located in the upper corner at the right-hand side of the screen)






After having created a Google Account, or if we already have one, you can click on "Create Account" in Google Analytics and a new page is going to open where you click "Sign Up"




  You create your Account, filling out the following information:
- website name – here you enter a generic website name, for example "Clothing store"
- website url – for example http://clothingstorez.com/
- industry category – for example – Retail
- Reporting time zone – for example – United States (chose the country you are located
in)
- account name – for example "clothing store"





Click "Get tracking ID".  A window with the Google Agreement is going to pop up, read the agreement and click "I Agree" if you agree.





  If everything is okay you will probably get to this screen:








At the top you see your Tracking ID. You are going to need it later. On the right you see there is no active tracking at the moment. There are a few options for you to choose underneath.
At the bottom you can see the tracking code. This is the code that you paste into every page you want to track.



Here is how you do that, if you had to do it manually. In this case, Summer Cart is going to do all the work:




HTML: Paste the code before closing the tag on every page you want to track.

PHP Implementation optional

Create a PHP file named "analyticstracking.php" with the code above and include it on each PHP template page. Then, add the following line to each template page immediately after the opening

tag:




Dynamic Content Implementation optional

Use a common include or template to paste the code above instead of manually adding it to every page




WAP site - for older feature phones optional

If you have a site built for older feature phones with no JavaScript support, or if you cannot use JavaScript for some other reason, you can download the server-side code libraries from Here






How to integrate Google Analytics with Summer Cart?




When you start using Google Analytics, your retail and marketing efforts impact will get to a whole new level.




Summer Cart's new Google Analytics plug-in is going to save you a great deal of manual labor and you will not have to call a web designer to do it for you.

Integrating Summer Cart's plug-in is a very simple process:







Copy the tracking id from your Google Analytics home page





Log in to your Summer Cart's administrative panel here:

http://yourwebsite.com/admin/
http://www.yourwebsite.com/admin/





From the menu you hover your mouse at Settings and then click on "Plugins"












  On the list of plug-ins, locate "Google Analytics" and click "Options"







  You are now located in the Google Analytics plugin control panel



paste your tracking ID in the first field called "Tracking ID";

if you want Google to track the count of the orders your customers place, you have to check the box at "Track orders" (in order to use this option, you have to buy the "Google Analytics eCommerce" plugin. For more information, contact our sales team.);

At tracking currency there is a drop-down menu which will allow you to choose the currency you want Google to convert all the transactions to.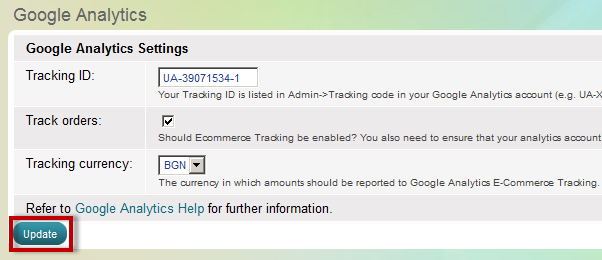 After you click "Update", Summer Cart will automatically add the Google tracking code to each static and dynamic page of your web site. Now you are able to track the traffic activity at your website by visiting your Google Analytics page.
In order to use Google Analytics, you have to:
Go to http://google.com/analytics/ and log in with your email and password;
Choose the web site you want to track (in most cases there is only one web site there);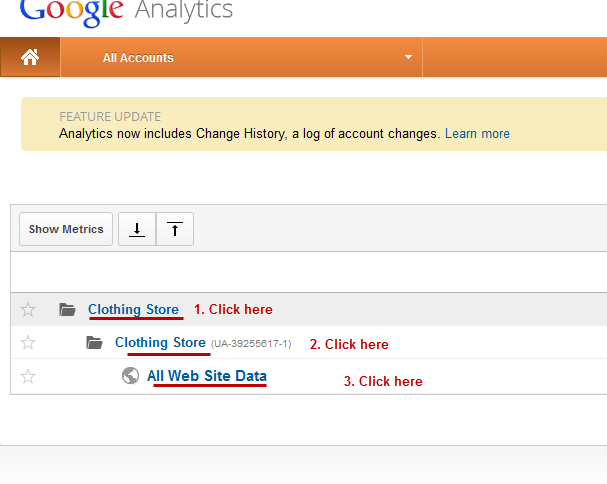 Click "Reporting". This is where all the statistics Google Analytics offer are visible, including the "Real-time" tab which is very exciting.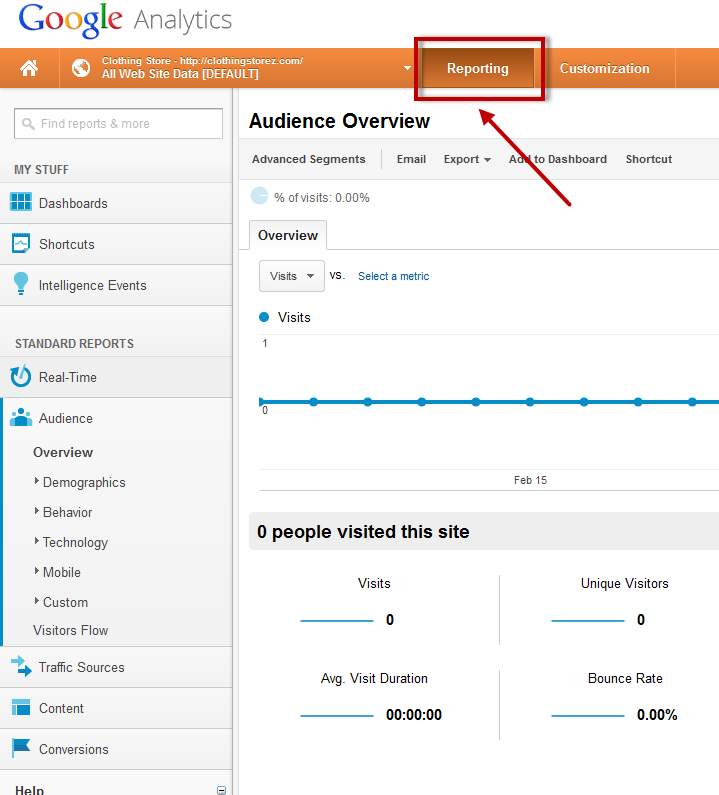 Summer Cart's team wishes you lots of sales!