What is Products management
>> Open Summer Cart admin panel
>> Go to the Store menu, under 'Products' click on Products link.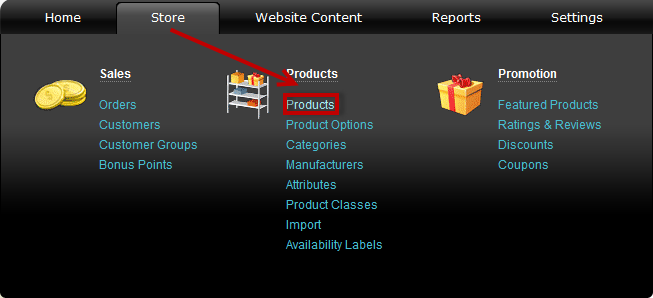 'Products'

page shows all products within your Summer Cart store.

Use 'Products' page to manage all of your products fast and easily. 'Products' page helps you through clear and intuitive workspace to handle the heavy workload of setting products for sale. 'Products' page offers image-rich product listing, intuitive search options and robust functionality to add, duplicate, edit or delete products. Hover over the images to get product descriptions in Tooltips. You can write a product description in multiple languages, upload as many product images as you want, list a product in many categories, set up product options in a click, define wholesale prices, related products and more.
| | |
| --- | --- |
| Tip: | Products you intend to sell online typically are grouped into categories. Categories are used to logically organize your inventory so your customers can conveniently find products they are looking for. |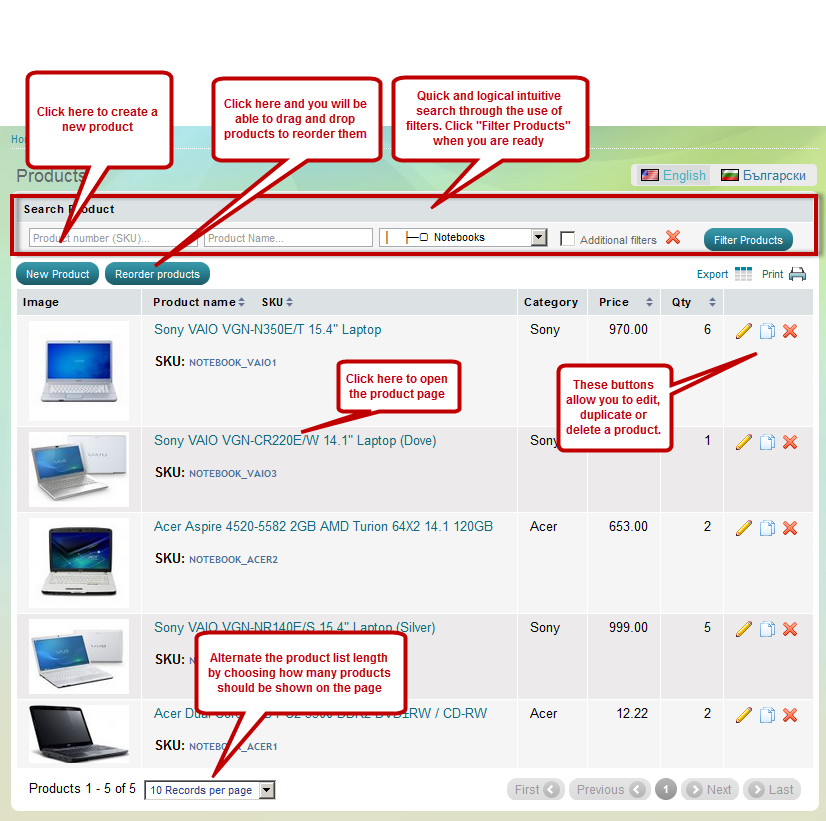 Image-rich product listing
In products list each product is presented with an image alongside its name, number, price and other details. This way Summer Cart enables you to spot a product in a glimpse out of the pile.
Quick And Logic Product Search
Use Search products form to examine a particular product or a group of products. Use one or more search criteria to narrow your search:
| | |
| --- | --- |
| Product number | Fill in a full or partial product number to find a particular item |
| Product name | Type a full product name to find a particular item or type a partial product name to find a series of items fast and easily |
| Category | Select a category from drop-down menu to shortlist products or search within all product categories |
| | |
| --- | --- |
| Tip: | To see a complete list of products belonging to one category leave 'Product number' and 'Product name' fields empty and only select the category you are interested in. |
Sort In 4 Ways
You have 4 ways to arrange products in an ascending or descending order: by product number, by product name, by price and by quantity. To sort products click on icon after a chosen sort criteria.
 (triangle up) – products are sorted in a descending order
 (triangle down) – products are sorted in an ascending order  
| | |
| --- | --- |
| Tip: | You can easily find which products are running short if you sort products by quantity. In a click you can see which products sell best and which sell worst. To check products performance in detail go to Reports >>> Sales By Product page. Read more in 'Understand Reports Better' topic. |
Quick Reference Product Information
'Products' page provides you some product details for quick reference: an image, a product number, a product name, a product category, price and quantity in stock. To see full product details click on a product's name or use Edit icon 

at the end of a row. When you click on a product's name a 'Product details' page appears with complete descriptive information, multiple images, SEO keywords, price, weight, taxation, product options, additional categories and more.