>> Open Summer Cart admin panel
>> Go to the Settings menu, under 'Modules' click on Payment link
>> Select 'iTransact'
Summer Cart shopping cart has an embedded module for credit card payments through iTransact payment system which guarantee secure online transactions.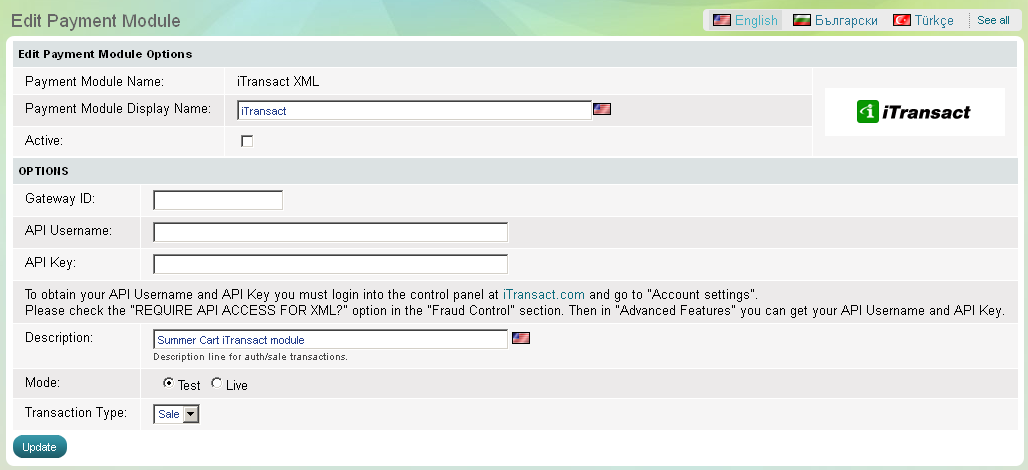 The iTransact module has 6 setup options that need to be completed before its activation:
Gateway ID

Summer Cart store owner is required to enter his or her Gateway ID provided by iTransact

API Username and API key

To obtain your API Username and API Key you must login into the control panel at iTransact.com and go to "Account settings".

Please check the "REQUIRE API ACCESS FOR XML?" option in the "Fraud Control" section. Then in "Advanced Features" you can get your API Username and API Key. 

Description

Summer Cart store owner is required to submit a short order description by which end customers will recognize the purchase from his/her store. It's advisable that you include the name of your store in Order Description.
Mode

Test mode is only used in the initial setup phase to make online purchases without processing real card data.

Remember that for secure real-time transactions at a live store must be switched to "Live" mode.
Transaction Type

When you start looking at taking payments, you'll need to think about how your business operates and the kind of products you'll be selling so that you can match this to the way you take payments from customers' cards. Here's some information on card payment types:


Sale - 

This is instant and is the fastest way to get to your customers' money.

Auth - 

This is a method where you can take the customer's card details, perform a 3DSecure check (Verified by Visa and MasterCard SecureCode) and process or 'authorise' the payment afterwards. It's important to note, however that the customers' card isn't shadowed with this type of payment, which means that the funds are not guaranteed.