How to set up PayPal Express
>> Open Summer Cart admin panel
>> Go to the Settings menu, under 'Modules' click on Checkout link
>> Select 'PayPal Express'
| | |
| --- | --- |
| Important: | PayPal Express requires SSL certificate to be installed for your domain. The SSL certificate is needed by PayPal for extraction the shipping costs from Summer Cart. |
Summer Cart supports PayPal Express as a separate checkout solution for your store in addition to all available payment methods. The special built-in module for PayPal Express gives Summer Cart store owners the opportunity to satisfy customers' preferences better. To start using PayPal Express solution you need Verified PayPal Business Account.
Once you have a Verified PayPal Business Account you can easily activate PayPal Express at your store with the help of the embedded module.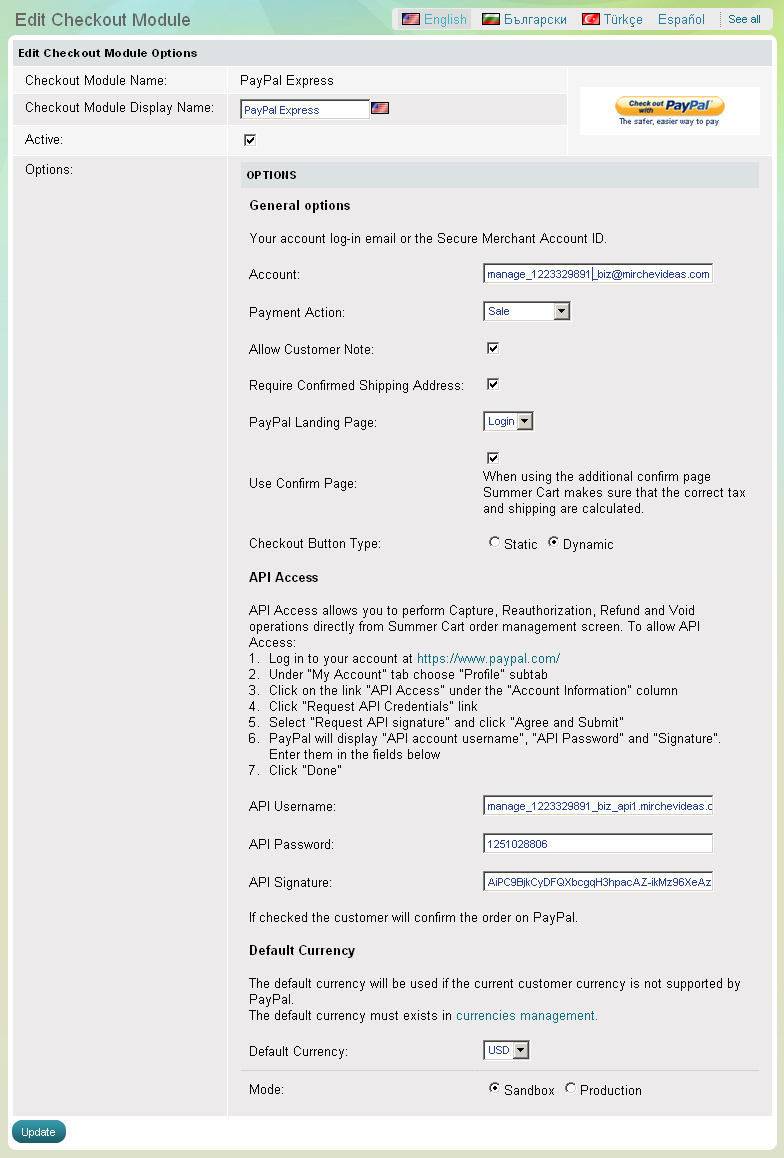 The module for PayPal Express has 9 setup options that need to be completed before its activation:
Account

Summer Cart store owner is required to enter his or her merchant account ID with PayPal.

Payment Action

This option should allow you to define when you take the payment.

Sale - will authorize and capture the funds at the time the payment is processed.

Authorization - will only reserve funds on the card to be captured later through your PayPal account.


Allow Customer Note

Allow your customers to leave notes when ordering.


Require Confirmed Shipping Address

An address is confirmed if the buyer's credit card billing address matches his or her shipping address. In some instances, PayPal can also confirm an address by examining the buyer's PayPal account history. Although the vast majority of unconfirmed addresses are not fraudulent, PayPal offers confirmed addresses as an additional layer of fraud protection. Confirmed addresses help guard against stolen credit cards and identity theft and decrease your chances of receiving a chargeback. However, it is important to note that you can still receive a chargeback for reasons unrelated to fraud.

PayPal Landing Page

Setup which page will show when your customer is redirected to PayPal website - login form or billing form


Use Confirm Page

When using the additional confirm page Summer Cart makes sure that the correct tax and shipping are calculated.

Checkout Button Type

Choose between Static and Dynamic button.


Default Currency

The default currency will be used if the current customer currency is not supported by PayPal.
The default currency must exists in Summer Cart currencies management.

Mode

Use Sandbox mode only in the initial setup phase to make test purchases with the PayPal Express checkout service. 

Remember that for secure real-time transactions at a live store you must switch to Production mode.