>> Open Summer Cart admin panel
>> Go to the Settings menu, under 'Store Configuration' click on SEO link.
Use 'SEO' page to submit website keywords and website description in one or more languages, and to activate Search-Engine-Friendly URLs.
Also see Full Search Engine Optimization topic.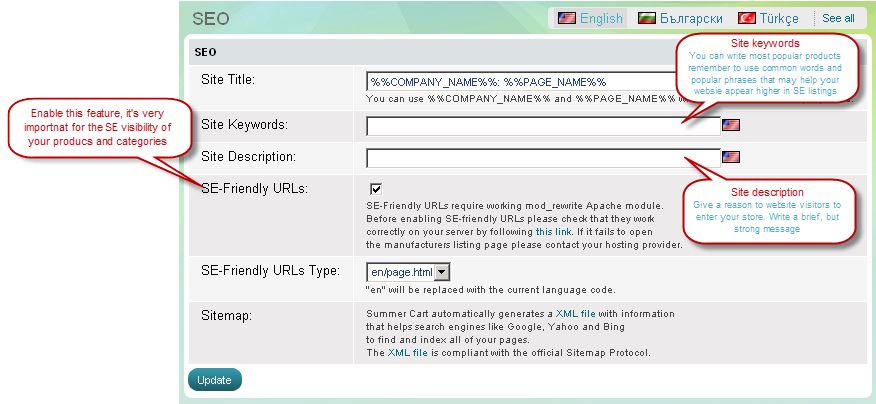 Site Keywords
Here you can write everything you think someone will search for to find your website. Use common words and popular phrases. Note that keyword duplication and stuffing are usually not welcomed by search engines.
| | |
| --- | --- |
| Tip: | SEO experts advise that a keyword list up to 200 characters is quite enough for indexing, because a longer list will not be fully displayed. |
Site Description
Describe in a sentence your store's specialty, it could be proactive as in example 1 and 2, or informative as in example 3:
Example 1: 'Buy from a huge selection of TVs, cameras and camcorders'
Example 2: 'Shop for latest styles of designer clothes and shoes'
Example 3: 'Online store for TVs, cameras, camcorders, game consoles and more. Free shipping.'
| | |
| --- | --- |
| Tip: | SEO experts advise you'd better create a description of 150 characters or less, because longer descriptions risk being considered as junk by search engine robots. |
Search Engine Friendly URLs
When this feature is enabled, category URLs look like this:
Product URLs appear like this:
Other website URLs look like this:
Instead of this: