What are news
On the Home page of your Summer Cart store there is a 'News' section where you can post a variety of news updates: about new product releases, clearance sales, discounts, special offers and more.
How to manage news
>> Open Summer Cart admin panel
>> Go to the Website Content menu, under 'Website Content' click on News link.
'News' page helps you add news updates into the website, activate, pause, edit and delete existing  postings. You can easily find a news posting in few clicks by using sort and filter options.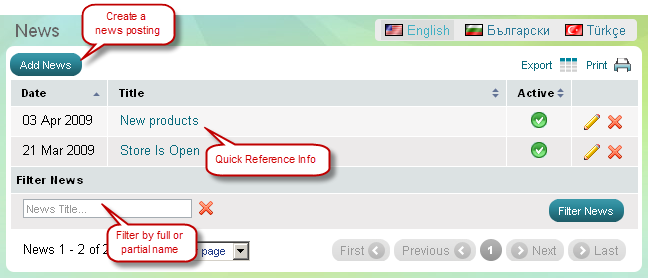 Quick Reference Information
The quick reference info helps you keep track of all news postings and examine them fast and easily. It shows date, title and active/inactive status of a news posting.
Sort in 3 ways
Sort the news postings in an ascending or descending order by date, title or active/inactive status. Click on

 after a chosen criteria.