>> Open Summer Cart admin panel
>> Go to the Settings menu, under 'Modules' click on Payment link
>> Select 'Sage Pay VSP Direct'
Summer Cart shopping cart has 3 embedded modules for credit cardpayments through Sage Pay payment gateway, which guarantee secureonline transactions. Summer cart supports the 'VSP Form', 'VSP Server' and 'VSP Direct' integration methods for Sage Pay through separate modules.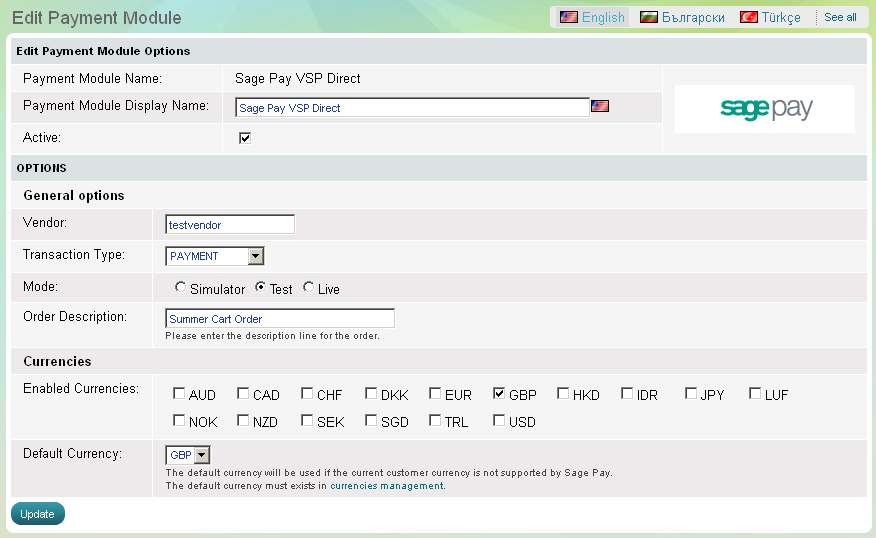 'Sage Pay VSP Direct' payment module has 6 setup options that need to be completed before its activation:
Vendor

Summer Cart store owner is required to enter his or her Sage Pay vendor name.


Transaction Type

When you start looking at taking payments, you'll need to think about how your business operates and the kind of products you'll be selling so that you can match this to the way you take payments from customers' cards. Here's some information on card payment types:     


PAYMENT - This is instant and is the fastest way to get to your customers' money.
DEFERRED - This is a method whereby you can capture payment and authorisation for a specific amount without immediately taking the funds. For example, this payment method works well for those who have longer lead times to dispatch goods who are building bespoke goods. It's also important to note that there is a finite timeframe for settling a deferred payment; this is usually within 3–6 days.
AUTHENTICATE - This is a method where you can take the customer's card details, perform a 3DSecure check (Verified by Visa and MasterCard SecureCode) and process or'authorise' the payment for up to 90 days (30 days for maestro cards) afterwards. It's important to note, however that the customers' card isn't shadowed with this type of payment, which means that the funds are not guaranteed.

Mode

You can set the mode of the module to Simulation, Test or Live.

Order Description

Summer Cart store owner is required to submit a short order description by which end customers will recognize the purchase from his/her store. It's advisable that you include the name of your store in Order Description.

Example 1: Store name is 'Exotic Spanish Flowers', its order description could be 'Order with Exotic Spanish Flowers'.

Example 2: Store name is 'Emily's Fine Shoes', its order description could be 'Order with Emily's Fine Shoes'.


Enabled Currencies

Check all the currencies

which you want to

accept

payments.

Default Currency

The default currency will be used if the current customer currency is not supported by Sage Pay.
.