What are coupons?
Coupons are a promotional tool that grants a discount on order amount. Practically a coupon works for customers in the Storefront in this way: a customer selects a product, clicks on its 'Add to cart' button and goes to 'View Cart' page. In 'View Cart' page he/she can apply a coupon code in a special field using the checkbox.
When you create a coupon you can further specify or restrict it by applying coupon conditions. You can limit your coupon offer to a minimum order amount, selected product categories, selected products and selected customers, or any combination of them.
What is Coupons management
>> Open Summer Cart admin panel
>> Go to the Store menu, under 'Promotion' click on Coupons link.
'Coupons'

page is a marketing tool and shows all discount coupons you offer to your store customers.

Use 'Coupons' page to view all coupons you have worked out; sort them by 6 criteria including value, type, start date, end date and more; create new coupon codes, edit and delete them; activate or pause coupon offers in a click and search through with intuitive filter options.

 
| | |
| --- | --- |
| Tip: | Discounts and coupons are quite successful promotion tactics which are similar in concept but different in impact. Typically discounts are targeted to sell some products better whereas coupons are aimed at developing customer loyalty. All depends on your approach. |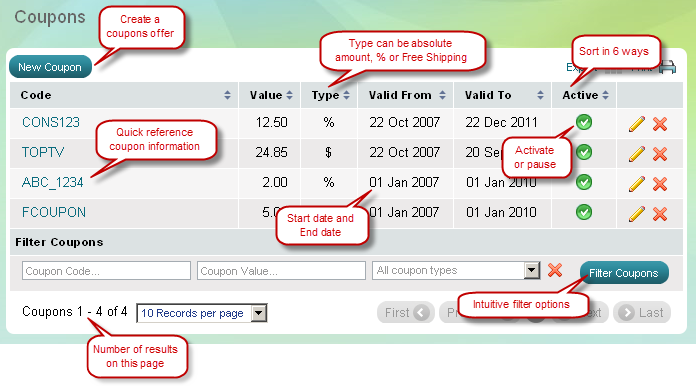 Quick Reference Coupon Information
You can examine the most important parameters of a coupon offer in seconds. You can quickly check:
| | |
| --- | --- |
| Coupon code | A unique code string with phrases and figures, e.g. SUMMER808 |
| Coupon type | Percentage or Absolute amount - shows how a coupon is calculated on order. Total order value can be reduced either by a percentage or by an absolute amount. |
| Coupon value | Shows what discount a coupon gives |
| Valid from | Shows the start date of a coupon offer |
| Valid to | Shows the end date of a coupon offer |
| Coupon is active | You can activate or pause a coupon in a click |
To see full details click directly on Coupon name or use

 at the end of a row. When you click on a Coupon name 'Edit Coupon' page appears with information about basic and advanced restriction parameters. Advanced parameters enable you to limit a coupon to order total, product categories, products and customers.
Intuitive Filter Options
You are able to search within coupons by 3 criteria. Filter coupons by:
| | |
| --- | --- |
| • | Coupon code – type full or partial code of a coupon |
| | |
| --- | --- |
| • | Coupon type – select a coupon type from drop-down menu |
| | |
| --- | --- |
| • | Coupon value – fill in first only or all digits of a coupon value |
Tip:

To find out a coupon use a specific part of its code instead of the entire string.
E.g. To filter out a coupon with code name 'SUMMER808' use only the phrase ship, to find 'THANKSGIVING112007' use only the phrase thanks, etc.
Sort in 6 ways
You have 6 ways to arrange coupons in an ascending or descending order:
Only click on the

 after a chosen sorting criteria.
 (triangle up) – Coupons are sorted in a descending order
 (triangle down) – Coupons are sorted in an ascending order