What is Manufacturers management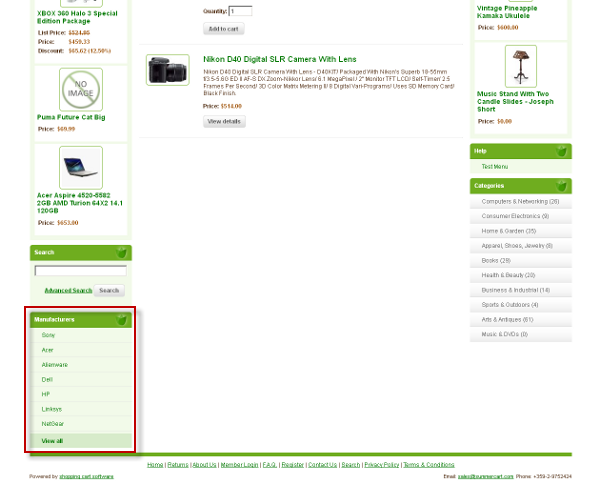 >> Open Summer Cart admin panel
>> Go to the Store menu, under 'Products' click on Manufacturers link.
'Manufacturers'

page shows manufacturers whose products you offer at the store.

Use 'Manufacturers' page to display on the website some or all of the manufacturers you work with. You can present manufacturers by name, arrange sort order and provide a direct or referral link. Manufacturers list is visible in the left- or right-side column (depending on your custom layout configuration) on Home page of Store Front. In the Admin Panel you can also delete a manufacturer.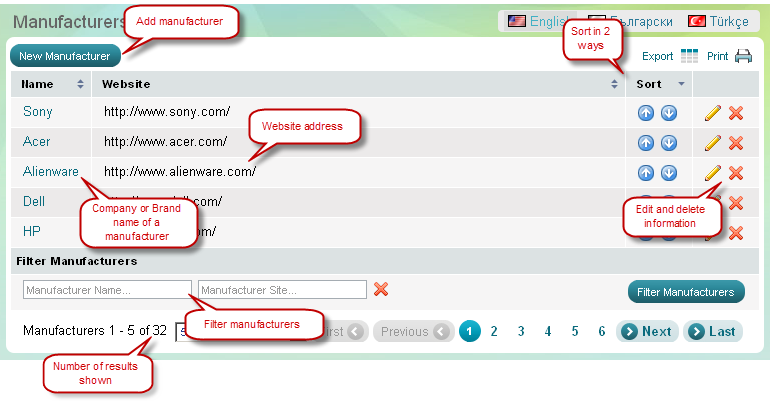 Manufacturers Company or Brand Name
Provide a company name or a brand name to present manufacturers and brands at your store.
Website Address
Please provide a full website address starting with HTTP://, for example http://www.manufacturer.com , and also be sure that all links are working. It is advisable that you regularly check for dead links.
| | |
| --- | --- |
| Tip: | When presenting a manufacturer you can possibly use a referral link rather than a direct link. Referral links are typically used to track sales leads and could encourage partnership relations. |
Arrange sort order
Manufacturers appear in a drop-down list, in 'Manufacturers' box on Home page. You can arrange manufacturers (with
 and
) any way you like - by priority, by popularity, alphabetically and so on.
Sort by name and website address
You can sort manufacturers list by name or by website address. Just click on

 in the column of choice.
Filter manufacturers
You can filter manufacturers by 3 criteria: ID number, name and website address. Type full or partial name or ID number, as well as full or partial website link, in the corresponding filter fields to narrow your search.
| | |
| --- | --- |
| Tip: | Find a manufacturer in a glimpse by typing first letters of the name. |